Title: Love Letters to the Dead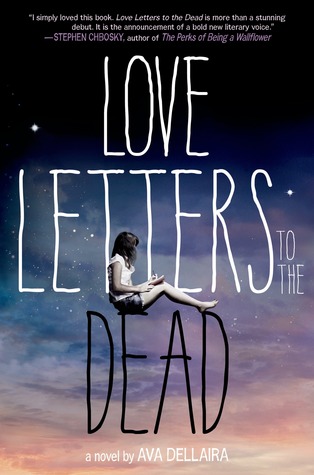 Author: Ava Dellaira
Publisher: Farrar, Straus, and Giroux
Pages: 327
Format: Hardcover
Source: Library
Rating: ♥♥♥
synopsis
It begins as an assignment for English class: Write a letter to a dead person.
Laurel chooses Kurt Cobain because her sister, May, loved him. And he died young, just like May. Soon, Laurel has a notebook full of letters to the dead—to people like Janis Joplin, Heath Ledger, Amelia Earhart, and Amy Winehouse—though she never gives a single one of them to her teacher. She writes about starting high school, navigating the choppy waters of new friendships, learning to live with her splintering family, falling in love for the first time, and, most important, trying to grieve for May. But how do you mourn for someone you haven't forgiven?
It's not until Laurel has written the truth about what happened to herself that she can finally accept what happened to May. And only when Laurel has begun to see her sister as the person she was—lovely and amazing and deeply flawed—can she truly start to discover her own path.
In a voice that's as lyrical and as true as a favorite song, Ava Dellaira writes about one girl's journey through life's challenges with a haunting and often heartbreaking beauty.
My Thoughts
This book right now has a lot of hype in the Booktube community. I actually wasn't planning to read this book for a while but my library had just received it  so I picked it up on a whim.
I was over all rather disappointed by this book! I had heard a lot of good things about this book so I had really high hopes. I did like this book but it felt like I had already read this book. if you have read Stephen Chobosky"s Perks of being a wallflower than you have basically read this book before. This felt like a complete parallel to his book except the lead is a girl. I loved Chobosky's work so I did enjoy this book.
Beside the above mentioned flaw I did like the way this story was delivered. I haven't read many books that are written in letter formatting before. The writing was also very nice and flowed nicely without any excessive descriptions. The writing made it easy to read and helped me to be able to read this book in one sitting. The best part of the letters was learning something about the people Laurel wrote to and how she viewed them and how that changed through out the book.
Laurel had a lot of guilt and a secret we didn't know about until later and I really did like that it was revealed slowly. I wanted to know why she felt that way and that made me keep reading. There is a romance in this book but its not the most important or strongest element of this book and for that I am grateful.  Sky, her love interest was my favorite character, He had his own problems and I loved reading about him more than Laurel. In fact I really didn't like Laurel in the beginning she felt like a really forced character and then slowly became more realistic as the book progressed making her a okay character for me. The other side characters story lines were interesting too.
This book also deals with a lot of serious and practical issues. Some of the themes include rape, depression, stereotypes, family issues, and discovering yourself.
Overall this is a good book, but not necessarily one of my favorites. If you did enjoy Chobosky's book than you will probably like this too. I would still recommend this book if you think it sounds interesting to you.