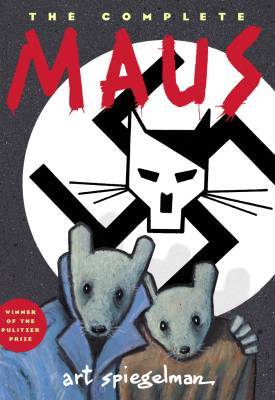 Title:  The Complete Maus
Author:  Art Speigelman
Publisher: Penguins Books
Pages: 296
Format: paperback
Source: library
Rating:♥♥♥♥♥
Synopsis
Combined for the first time here are Maus I: A Survivor's Tale and Maus II – the complete story of Vladek Spiegelman and his wife, living and surviving in Hitler's Europe. By addressing the horror of the Holocaust through cartoons, the author captures the everyday reality of fear and is able to explore the guilt, relief and extraordinary sensation of survival – and how the children of survivors are in their own way affected by the trials of their parents. A contemporary classic of immeasurable significance.
My Thoughts
This book was a complete surprise to me when I found it. I was at college in between classes and found this comic book shoved between the classics in the library. I read this early in the year but it is still one of the books I have been thinking about since I read it so I thought I would review it for you guys now.
This is a bind up of the original two individual books. Maus 1: A survivor's Tale: My Father Bleeds History and Maus 2: And Here My Troubles Began. I read the books as two seperate volumes and really loved the covers so I have inserted them below so you could view them in all of their glory.
So the first thing i notice when it comes to any comic or graphic novel is the art work. Speigelman is a cartoonist, a very talented one at that. I really liked the artwork and thought it was beautiful.
The story was a lot more than just a retelling of a man's life during the Holocaust. It was also a story about Art and his father's relationship. This collection goes from the past retelling Vlad's life to the present were Art and his father and other family are dealing with each other. I really liked that about it. Art and his father were never really that close as he was growing up it appeared. As his father's story was told from beginning  to end Art started to appreciate his father more and started to understand  his point of view.
The story itself is illustrated so the jews as mice and the Nazi as cats. A common analogy that makes since. As for the story in itself it is really hard for me to rate or critique it because it is real. These events mentioned in this book are real one hundred percent something that happened to someone and how they remembered it and to me that is the greatest thing anyone can give someone else.
This book was everything the Holocaust was dark, gripping, and shocking. Even if your not a comic/graphic novel fan you should pick this up and  give it a try. I whole heartily loved this book and it has become one of my favorites.