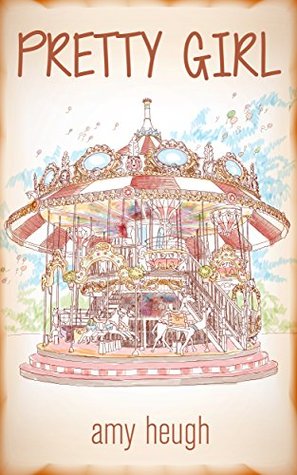 Title: Pretty Girl
Author: Amy Heugh
Genre: Young Adult
Format: Ebook
Source: Author
Rating:
Synopsis
If there were one day that she could change it would be the day she was taken.

After her parents' divorce, seventeen-year-old Izzy Scott and her mother move to the old town of St. Augustine to begin a new life, a life beyond the media attention and the memories of the traumatic experiences that left an everlasting affect on their family.

The former ballerina is trying to adjust to the outside world without suffering a panic attack and exposing who she is – all while getting through her senior year at a new school. That's easy to say until she meets local boy Mason Winchester, a boy with a tragic past.

Mason has a reputation for violence, but a love for motorcycles. At the age of eleven he lost his mother to cancer and from then he has been running from something, but could never really get away.

Like any other angry teenager, he just wants to be left alone and to have nothing to do with anyone else because he believed that he had nothing to offer. That changes the moment he saw what was in the new girl eyes.

Tragedy wasn't new to either of their lives but among the secrets and the memories the one thing they both never excepted was to find hope.

*This book is recommended for readers 18+ for violence, language, and some adult situations.*


~I received a copy of this book from the author in exchange for an honest review.~
   Before I even start talking about the book, lets talk about that cover. The cover is absolutely gorgeous. I love books where the cover and title actually mean something in the book. The "ahh" moment when the title and cover make since is great.
The writing is absolutely amazing and addictive in this book. I never wanted to put it down because of the gorgeous prose. In the beginning the pacing was slow but it felt intentional and in about 15-20 percent in, it picks up.
  The story is told in alternative point of views from our mains Mason and Izzy.
Going into this book I was totally expecting a cutesy story about two damaged leads with a mysterious past.  Instead, I got a mind blowing devastating amazing book.
   Pretty Girl has a lot of common themes in YA in it including the bad boy and new girl, The Bet, and The damaged misunderstood leads. Luckily thought it was so well written and delivered. I am usually really opposed to the theme of "The Bet" . Which is when the male lead agrees to a bet to sleep or mess around with the female lead. I actually didn't mind it in this story because it wasn't a main focus of the characters. Mason also realized early on that he made a mistake taking the bet instead of saying the only reason they where hanging out with each other was because of the bet. The other two common themes are ones I really enjoy and they were done really well. Towards the end some events surprised me, so bonus points!
  I love a good romance especially when the leads are written so well and the chemistry is amazing. What I love even more in a romance is when it isn't the main focus of the story. This book was so much more than a romance. It was more about surviving,coping, and friendship.
   I love that Izzy goes to a therapist and it is associated as a positive in this book as well. A lot of YA views getting help when you need it as a negative and I am so glad that this book did not.  Beside therapy the themes of anxiety, depression, and PTSD are all portrayed excellently.
  Izzy was a great lead. You know something crazy happened to here. For having anxiety, depression, and PTSD she was so strong. She stood up for herself  and she knew what she wanted and when she was done with someone. She had a good head on her shoulders and a awesome personality when she was showing it.
  Mason was gorgeously damaged. He was loyal to the people he cared a bout especially Ben and Zoe. You could understand who he was and why he behaved the way he did. My heart aches for young Mason! P.S. pretty girl is the cuties nickname ever.
 Their stories broke my heart. I loved them not flaws and all but because they were perfectly flawed flawed
Quotes
"When two people start to become fragile, small cracks start to show until eventually it becomes uncontrollable, and then you realize there is no other way out besides abandoning the hope you had inside."

"I could no longer rely on myself to believe I could swim against the rising waves, because it didn't matter as I had already crashed against the shore, battered and bruised, holding on to the certainty that I wouldn't heal."

"Perhaps I was fragile and tender, like a baby bird that just crawled out of its shell, which was now vulnerable and everyone was willing to catch me if fell from the top of the tree. But I didn't need saving, I wasn't ready to be caught because I wasn't ready to take flight, yet."