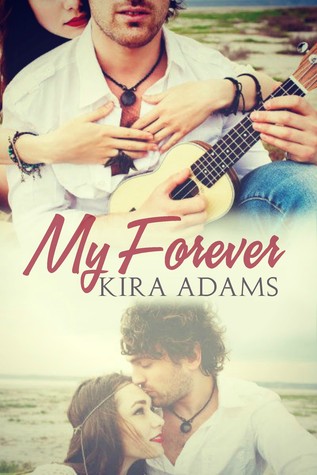 Title: My Forever
Author: Kira Adams
Genre: YA Romance
Format: Ebook
Source: Author
Rating:
Synopsis
Grief and loss can make a person act out in all the worst kinds of ways. Madalynne Johnson has always been a bit of a handful, but with the loss of her brother, separation of her parents, and her boyfriends unexpected news of joining the army she has gone into a full on tailspin.

Parker Grant experienced loss firsthand when his brother took his own life. Darkness closed in. Madalynne saved him; showed him the light. And even though he isn't sure what the future holds–he wants Madalynne and this time he won't give up without a fight
My Thoughts
This book was originally on Wattpad. If you don't know I love Wattpad and I am constantly on there. The name Kira Adams and the titles of her books looked familiar when I recieved the book and I was right. I had seen them on Wattpad but never got around to read them. So I am so glad to of got the chance to read this one. I'm so glad I can support a fellow Wattpad fan.
This book is classified as a Young Adult/New Adult book but for myself personally I would say this is more of a Young Adult novel than New Adult.
The best thing about this book is the writing. There wasn't any filler words or paragraphs in this every word, phrase was needed and moved the story forward.
The story follows Maddy and Parker who are boyfriend and girlfriend for the last 3 years. Then Maddy's brother dies who was serving in the army. Maddy has a hard time coping with her lose just for her boyfriend to tell her that he is also enlisting and wants Maddy to be okay with it. She's not! so they break it off .
Now enters the love triangles. Yes, I said love triangles, Plural. Don't get me wrong i love a good love triangle as in when I don't instantly know who the characters are going to choose.These I didn't like I right away knew who was going to get/ stay together and who wasn't.
Everything kinda happened in twos. If something happened to the main character than the same was going to happen to the other main character.  Both the mains have a dead brother, two enlistments, and two love triangles. It became to predictable and unrealistic.
With that being said I think people younger than me and haven't read as many YAs as I have would like this book a lot. It wasn't per say bad but predictable.
The next book is suppose to follow a secondary character. I am excited to read the next in the series.