The time around the holidays is when we usually think about gifts/presents for the people in our lives. But why should we limit ourselves to only thinking about it then. This year I am starting a monthly series for possible gift ideas for the bookish people in your life! For all of the gift giving times of the year.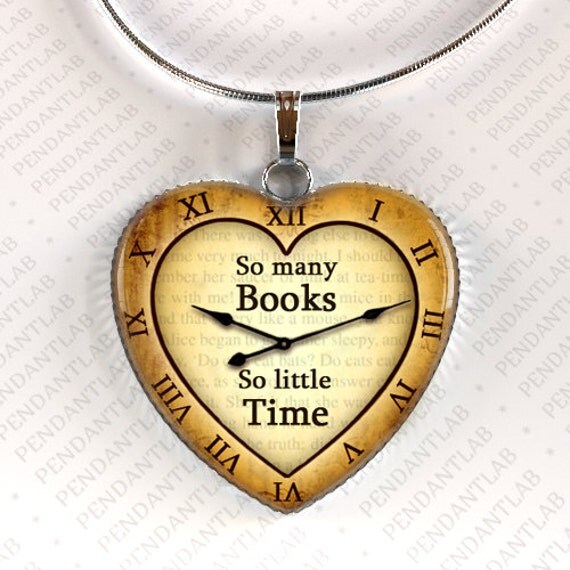 So Many Books So Little Time Pendant
By PendantLab
$14.95(plus S&H)

A gorgeous quote pendant perfect for any book lover. The listing is for the pendant itself(No Chain). This would be a great gift for anyone on your list
Book Worm Knee High Socks
By Sock Dreams
$10(plus S&H)
These are total statement socks that I would love to wear especially since its winter here and they are warm and thick.
Fits women's US shoe size 7 – 13 and men's US shoe size 5 – 11, though we found they do fit even women's size 6 feet pretty nicely!
14 inches from heel to top of cuff unstretched. Tops & calves stretch easily up to 18 inches around.
Mark-My-Time Digital Bookmark
By Mark My Time
$8-15(plus S&H)
This would be a great gift for the readers out there who like to keep track of how much reading they have done by time. Also for students who are required to track the amount of time they spent reading. Would of loved this when I had to track my reading times when in school.
It comes in a lot of different colors as well as different patterns.
 Hope you guys liked the first edition of my gift guide. I wanted to focus on things other than the traditional book(not that we don't love those too) to give a more unique present. Some of these lists will have a them and other will be longer than this one but I just wanted to try it out and see if anyone liked the idea of these posts.
If items are no longer available, please contact the seller to inquire further information. 

Check back every month for more awesome gift/present ideas for you or the other Book Lovers in your life!!!