Howdy Guys
So I went to the library awhile a go and never told you guys about it or posted about it when I actually had the books. This is both because of the chaos of the readathons I was participating in and plan forgetfulness on my part. I no longer have the books but I still want to share with you guys what I picked up up on my last trip to the library.
The main goal of this library haul was to get a few short books to read for the readathons if some of the longer books from my last library haul here weren't doing it for me during the readathons.
So I picked up some that I was really excited for like
Vampire Academy Graphic Novel – Richelle Mead
Biblivores -Gene Ambaum
Amulet Vol.2 -Kazu Kibuishi
and some that were new to me like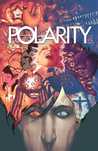 Tomboy – Liz Prince
In Real Life– Cory Doctrow
Polarity – Max Bemis
Shutter – Joe Keatinge
Overal I really liked 5/7 of them and I'm really happy with that.
Polarty and Tomboy weren't for me but I really had a lot of fun with the graphic novels and Comics I picked up and I ;m really excited to pick up some more in the future.
~Arya